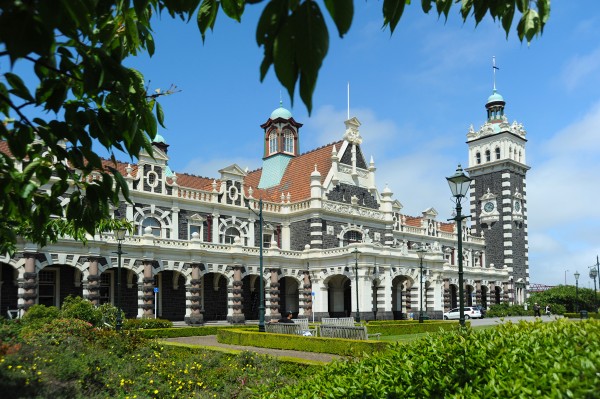 Dunedin was founded in 1848 by Scottish settlers at the head of the Otago Harbour. It had a sudden increase in wealth when gold was discovered in Central Otago in 1861. Dunedin has retained many of its old buildings and its Victorian and Edwardian houses are of great interest to anyone exploring the history of architecture.
Dunedin is a university city and the beautiful buildings of the University of Otago are close to the city centre. Cafés, restaurants and bars compete for space with a fabulous mix of shops and entertainment venues around what is known as the "Octagon."
Close to the university is the Otago Museum, which is well worth a visit. A short distance further north the Dunedin Botanic Gardens spread over the hillside and a particular attraction in the spring is the rhododendron dell.
On the Otago Peninsula a mansion in the style of a Scottish baronial castle was built in 1871 by William Larnach and the present owners open it to the public.
The albatross colony at Taiaroa Head is across the water from Dunedin's port at Port Chamlmers. It is possible to book to visit the colony except at breeding times or when there are no birds to be seen.
Of course the city has an impressive selection of cafés, restaurants, bars, fine swimming baths, sports grounds and pleasant walks, especially in the Town Belt - a green area half way up the hills behind the inner city.
The main shopping area is on George Street with an eclectic mix of Dunedin fashion boutiques, jewellery, galleries, antiques, souvenirs and book stores.
Many of the inner city attractions are within a 5-25 minute walk from Bluestone on George. If you are keen on doing one of the Otago Peninsula Tours then most of them will pick up and drop off from us.